Crash Bandicoot: On the Run! APK MOD 1.170.29 (Modo Dios)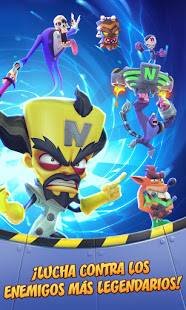 Crash Bandicoot: On the Run! TRAILER DEL JUEGO:
Crash Bandicoot Mobile APK MOD ha regresado, pero el nuevo juego dedicado a la divertida mascota de Activision puede no satisfacerlo todo. De hecho, es una carrera sin fin para dispositivos móviles, desarrollada por King para iOS y Android. Después de que Sonic y Mario también recibieron una adaptación móvil, solo fue cuestión de tiempo antes de que Activision, gracias a la filial King, se lanzara a este mercado.
Descarga Crash Bandicoot: On the Run! APK MOD 1.170.29 con Modo Dios Gratis para Android
El resultado parece ser esta nueva carrera interminable protagonizada por la simpática mascota, creada por los creadores de Candy Crush. El género en realidad encaja bastante bien con la naturaleza de Crash, aunque desde el nuevo capítulo de la serie, después de dos remasterizadores muy apreciados como N. Sane Trilogy y Crash Team Racing Nitro-Fueled, se esperaba algo diferente. La existencia de este corredor sin fin, sin embargo, no significa que no haya otro juego Crash tradicional en desarrollo.
La estrategia de Activision es, de hecho, llevar sus propiedades intelectuales a los dispositivos móviles como complemento a la publicación de títulos premium. Y Crash Bandicoot Mobile podría ser la manera perfecta de acercar aún más a las personas a la marca antes de anunciar un nuevo juego Crash bandicoot. Crash Bandicoot Mobile APK MOD tiene coloridos gráficos increíbles y un juego de corredor sin fin que hemos visto en muchos de los juegos de corredor sin fin.
Las nuevas características principales son que se completa desde Crash Universe con todo su tema e incluso enemigos. El juego en sí se juega como el viejo juego de crash bandicoot pero en un estilo de corredor sin fin. Puedes correr, esquivar, saltar y girar al igual que los juegos más antiguos. Como está hecho por King y es un juego gratuito, no obtendrás dinero y gemas fácilmente. Aunque Crash Bandicoot Mobile MOD APK por dinero ilimitado no es posible, hemos agregado GOD MODE para que puedas completar fácilmente todas las etapas.
TAMBIÉN TE PUEDE INTERESAR: Drive Simulator 2020 MOD APK Dinero ilimitado
¿Qué hay en el MOD APK de Crash Bandicoot: On the Run!:?
MODO DIOS.
Requiere Android: 5.0 o superior.
Versión: 1.170.29 (La última).
MODO: EN LÍNEA.
Tamaño total del archivo APK: 146MB.
Categoría del juego: Acción.
Descargas en la play: 5.000.000+.
ENLACE OFICIAL EN GOOGLE PLAY STORE: CRASH BANDICOOT MOBILE.
ENLACES DE DESCARGA: CRASH BANDICOOT ORIGINAL APK + MOD APK + DATOS ENLACES DE DESCARGA.
Instale APK, coloque datos en Android / Obb / y Juega.